Well, it's official – the Google Penguin updates are costing me money. Thanks a lot, Matt Cutts! Just kidding. It's actually kinda funny.
The Backstory: I have a few Web 2.0 properties that I don't really care about. I never post new content on them, and I never update them. Ever. Really. I never ever even look at them. But a long time ago in a land far, far away (circa 2005), I signed up for Text-Link-Ads because I thought maybe I could make some extra money by selling links on these properties that I don't really do much with. And wouldn't you know – I've been making about $25-$50 a month for the past several years from those sites. It's been a lot of fun. I mean, it's nothing to brag about, but it is some extra money. I'll take it! [BTW just to be clear, I would never ever sell links on yourseosucks.com because I actually like this site and I don't want any ads/paidlinks on it simply because I don't want anything screwing up this really crappy design I've got going here.]
Every few months, I'll get a 'link requested' or 'link cancelled' email from TLA, and I LOL because it's still funny to me that anyone would want to buy a link on any of my crappy sites that altogether get maybe 20 visitors each month. I shouldn't laugh when they cancel their links, but I do because it's funny to me that they bought them in the first place.
Most of the time when a link is cancelled, I leave it live on the site. I rarely take links down. I simply don't care enough to actually go update those sites. So whoever bought links from me and then cancelled – you are probably still getting links on my sites for free. Not a bad deal, right? Wrong! It is a bad deal. Because now we live in the age of Penguin, and Penguin is rabid for bad links.
For the past 15 years, the SEO world has profited on the fact that Google likes links. Now it's time to profit on the fact that Google Penguin hates bad links. It's like everything has been reversed, or maybe it's like everything has come full circle. I don't know. I'm not good with analogies and metaphors. But I do know this: smart, opportunistic SEOs will use Google's hatred of bad links to make even more money.
That's right, folks: LINK REMOVAL IS SERIOUS BUSINESS. I predict that the next few years will be marked by a massive rise in the number of link removal services offered by independent SEMs, SEOs, and agencies alike. I don't typically make predictions, so I'm kinda nervous about that one. But seriously, take a look at this email I got from TLA: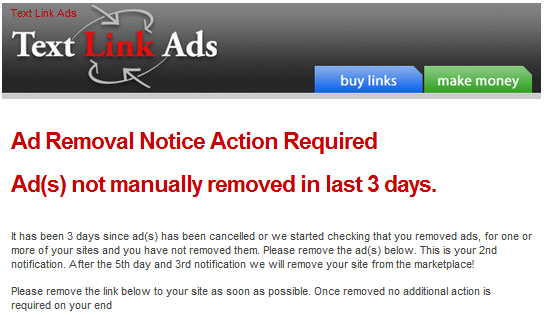 After the 5th day and 3rd notification we will remove your site from the marketplace!
Wow. That is serious! I've never received an email like that from TLA. Like I mentioned earlier, I always leave the links up – even after the person stopped paying for them. Maybe I've missed these email before, but I've don't ever remember seeing an email from them with an ultimatum like "Take them down or else!" I feel like they are bullying me. Yeah. This is link removal bullying. Well, not really. But they've definitely taken a new approach to link removal requests. On the bright side, the email included a complete list of all the links I've never taken down. So I guess I'll set aside some time to remove all of them. And there goes my $25-$50 per month that I was making. Thanks again, Google Penguin. Now how am I supposed to buy all those +1's each month?!?
Now let's get back to link removal and link removal services.
My theory: Text-Link-Ads.com didn't change their link removal policy just because they had nothing better to do. Well, maybe this has been their policy all along, and I've never really noticed. Or maybe this is just the first time they've ever decided to enforce it. It doesn't really matter. Regardless of the cause, this is the first time I have ever received an email about it. And this email was obviously catalyzed by the Google Penguin updates.
There are a ton of webmasters, link builders, and SEOs that are really scared of the Penguin. It is only logical that the same people who have been interested in building links are now interested in removing them. So, not only does a company like TLA have to provide  a high level of service and support in the acquisition of links – they also have to add a new level of service and support dedicated to the removal of links (when advertisers stop paying publishers for the links).
As noted earlier, when advertisers cancelled links on my sites, I just left the links up. I didn't take them off my sites. Did that cost me money? Sure. Was I giving something away for free? Yeah. But I didn't really care enough to spend time updating my sites every time a link was cancelled. It just wasn't worth it to me. But now, with this new policy from TLA, I've got to remove links when they are cancelled…OR ELSE!
In the end, I think this is a good move on the part of Text-Link-Ads.com. Over the years, I have enjoyed using their services. Any time I've needed additional support, their customer support team has been very quick to respond and very helpful. So this new addition to their service makes me happy as a publisher. Ultimately, if you're buying links from anyone, you should be able to have the links removed whenever you want.
I have worked with enough link publishers to know that they don't really specialize in link removal. In fact, in my experience, the removal of links is the one thing that most link publishers could care less about, especially the link publishers who specialize in building private network links in bulk. I mean, seriously: how do you expect someone to remove 100,000 links? Even if they are on private networks, it's pretty much impossible. It's even more impossible when the links were built in comment threads, profile pages, and articles that were built on sites not owned by the link publisher. So really, good luck with all of that. But that is exactly why I think it is a good thing that link publishers are taking the time to create processes that make link removal an easier thing to manage.
Site owners who were negatively affected by Google Penguin must come clean. Google Penguin will continue to have updates, and at some point, ALL site owners will have to come clean about their links and linkbuilding history. How many of the bad links do you need to remove? Well, according to this post and this thread, the answer is 85% of the inorganic links need to be removed before you submit a reinclusion request. I'm not sure if that's a solid number or if it will work for any situation. At any rate, Google wants to see you at least trying. In fact, at SMX Seattle last week, Matt Cutts said that he's actually had webmasters sending in screenshots of their please-take-down-my-links emails to link publishers. Matt's point: he wants to see some effort.
So good luck and Godspeed with your link building…err…removing!