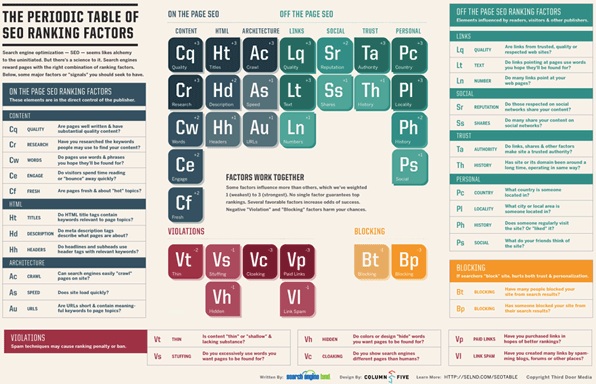 Moderator: Danny Sullivan (@dannysullivan)
Speakers:
Matthew Brown, AudienceWise (@MatthewJBrown)
Duane Forrester, Microsoft (@DuaneForrester)
Jeff MacGurn, Covario (@yerrbo)
Rand Fishkin, SEOmoz (@randfish)
The session starts with Danny reviewing the old periodic tables of SEO…from 1998, 2003, 2004, 2006, 2007, 2009, 2010, 2011. Nice little SEO history lesson. I think I even heard him mention the Florida update. #vintage
Jeff MacGurn is up first. Leads off with a philosoraptor meme image. A redditor? We can smell our own. He works at Covario. Cites some big study/analysis they did. And then spends a minute or two explaining correlation between causation.
Technical SEO factors:
Page size
URL character length – not much correlation
Flash navigation – not much correlation
Session IDs – strong negative correlation on rankings when present
Dynamic parameters in URLs – not much correlation
Proximity of page to root directory – not much correlation
Page load time – surprisingly strong correlation
Content Factors:
Keyword Emphasis – not so much
Keyword in title tag – strong on Yahoo/Bing
Keyword in Meta Desc tag – not so much
Keyword in H1/H2 tag – strongly correlated overall
Keyword in H3 tag – not so much
Keyword in image Alt tag – not so much
Keywords in URL – strong positive correlation
Links:
Internal link count – very little correlation
External link count – marginally better than internal link count
Keywords in the anchor text – waning, but still slight correlation
Hub Links – Very strong, one of the strongest factors of all examined factors in the study. ie – Having links from sites that link to relevant group of site
Takeaways:
Look for differentiating factors in your landscape
Links from Hubs
Page load time
Keyword in URL
H1
And next up in Rand Fishkin. You've probably heard of him. He's about to throw Jeff under the bus. Oops! Jeff kinda got unlucky because Rand wasn't scheduled to be on this panel. Sorry, Jeff. You were a worthy competitor though.
It's pretty clear that in the realm of SEO data analysis, @randfish is king.
2011 data has changed a lot. Link factors fell from 65% to 45%. Whoa! Again, this is a survey. But still.
Google's use of ranking features in the future: usage data, social signals at the domain level, social signals, analysis of perceived value to users
Big one: #of linking C-blocks
# linking ip addresses, linking root domains, subdomains, followed links
linking root domains with partial anchor text
Exact match anchor texts are on the way down in terms of value
# of linking C-blocks to page more important than domains
Exact match domains: Matt Cutts said at PubCon 2010 that they will not value exact match domains as much. Rand's data shows that Matt was telling the truth. Nice work, Matt. Exact match domains are not as valuable any more.
Is Google evil? — Lots of Google adsense slots? Strong negative correlation with rankings.
Don't link to Google.com! It has negative correlation. Microsoft on the other hand is slightly positive.
Do you use Google Analytics? If so, slight negative correlation.
Number of external links on the page shows positive correlation.
Social media factors – #of Facebook shares, Sum of FB shares, likes and comments
# of Facebook shares – highest single positively correlated metric for rankings (present for 61% of pages ranked in the top 30)
Facebook shares are predictive of links. Nope. They are not correlated.
Maybe FB shares are correlated with some other factors Rand's not looking at, but he acknowledges that. Could be things like site speed.
Don't try this at home, kids — Don't misuse or misattribute correlation data.
And now it's @MatthewJBrown from AudienceWise. And he also uses a reddit meme in his slides. I know what he does at work.
Points out to put FB Like buttons on every single page on your site. Not a button for your brand's FB page, but a FB Like button for all your products, categories and URLs
User averages of FB likes, shares, comments, tweets, linkedin shares, etc…
Make sure to check out schema.org
Localization: the online brand killer?
Check out Google Suggest for keyword suggestions rather than the Adwords keyword tool
Use Advanced Web Rankings with Proxify
Get on board with Twitter, FB, and Google +1
Q&A:
Duane Forrester: I agree with some of what I've seen. Some of what I've seen has me scratching my head. And I'm a little bit humbled about how close everyone is.
Rand asks Matt about localized results. Give me data for 150 keywords from 50 different data centers/cities. Gets complicated.
When we look at all these factors, are we not looking about the human use? – Rand says the two are merging more and more. Jeff says they are one in the same. Duane says Bing is looking at what the user is experiencing.